CBS spol, s.r.o.
Milan Paprčka
Our clients said about us
Thanks to FLOWii, we managed to automate many small processes. Which saved us a lot of time.
Number of employees: 120
Revenues: 2,1 mil. €

ARCHSTYL s. r. o.
Juraj Krč
Our clients said about us
FLOWii is great not only in management but also in having order and clarity of all of our finances and activities in the company.
Number of employees: 9
Revenue: 1,12 m. €
Vydavateľstvo Absynt, s.r.o.
Juraj Koudela
Our clients said about us
We were looking for a system on which our whole team can rely on, and which has an easy implementation.
Number of employees: 8
Revenues: 459 ths. €
BVK-PRO, s.r.o.
Ádám Varga
Our clients said about us
FLOWii is an irreplaceable tool that helps us manage our orders, among other things.
Number of employees: 18
Revenues: 1,03 m. €
More than 2500 satisfied customers
FLOWii is used by companies all around Europe operating in different industries because they can customize it by their own needs. They can use all the solutions at once, or just the ones they need. Are you a start-up business and need free invoicing? Or are you a company with more employees and need a comprehensive CRM solution? FLOWii is the right choice in both situations.
STATISTICS
Our numbers
Regular updates, new functionalities, number of our satisfied customers and our team is always growing thanks to your trust in us.
2500+
Companies are using FLOWii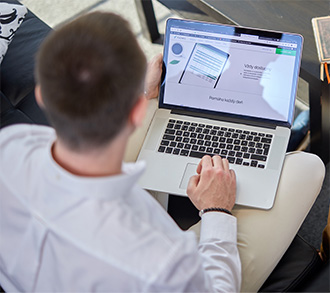 15+
People are working on improving FLOWii everyday
Mobile app
FLOWii also on your smartphone.
The FLOWii mobile application for Android and iOS offers an overview of Partners, Tasks, Events and Business Cases.